Today POS Solutions is a leader in Retail POS as it is an experienced supplier of Point of Sale Systems as well as individual point of sale system and point of sale equipment for a wide range of business environments. It is a major software developer specializing in Australia in newsagencies, pet shops and pharmacies which has serviced thousands of businesses Australia wide. Our head office is in Melbourne, Australia with offices in Tasmania, Sydney, Brisbane and Perth.
We started in 1983, a computer programmer Bernard Zimmermann seeing the potential of the personal computers started POS Solutions to design and market specific written software and computer hardware for businesses.
In 1990, POS Solutions marketing director Zac Varga developed a plan for a standard newsagency industry software package to help these independent retailers to gain access to the new technological developments. The company succeeded in introducing a competitive range of newsagency software that enabled it to hold a top position in the market. Soon afterwards Zac Varga bought 50% equity in the company. Here is a picture of the two directors of POS Solutions at their first trade show in 1990 showing off the first industry specific retail management point of sale software.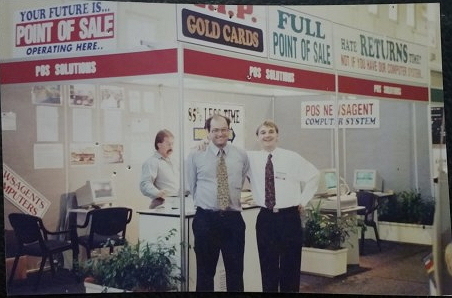 Now we provide our clients with a complete range of solutions including software, hardware, support and marketing and have consistently focused on our original vision of POS Solutions. It has continuously changed to meet the needs of the marketplace and today we are engaged in every aspect of technology in retail.